Astrophotography Competition Winners are Front-Page News
The winner of the DIAS 'Reach for the Stars' astrophotography competition - sponsored by Alice PR - has been announced, and was featured on the front page of The Irish Times this weekend. And an online exhibition of the top-rated images is currently running...
We developed the concept for the astrophotography competition for our client, DIAS - the Dublin Institute for Advanced Studies, last autumn. The aims of the competition were to:
Tap into the growing popularity of astronomy and photography amongst the Irish public;
Showcase DIAS's rich legacy and expertise in astronomy; and
Increase the Institute's public profile.
As well as project-managing the competition, Alice PR was delighted to sponsor 'Reach for the Stars' and our MD, Martina Quinn, sat on the judging panel. She had no easy task! Almost 200 entries were received in total, and their quality and diversity was hugely impressive. Judging Panel for the Astrophotography Competition
Martina's fellow judges were Professor Peter Gallagher, Head of Astrophysics at DIAS; Brenda Fitzsimons, Picture Editor of The Irish Times; and John Flannery, Vice-President of the Irish Astronomical Society. Between them, they ultimately selected Josh Mathews from Shanbolard, Moyard, Co. Galway as the winner of the astrophotography competition. His winning photo, 'To the Waters and the Wild', depicts the night sky over Crocnaraw on the Connemara coast in Co. Galway. Front-Page News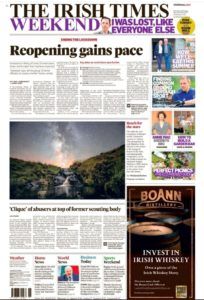 For those of us who work in PR, nothing beats the thrill of seeing a photograph from a client project on the front page of a national newspaper. So we were delighted that Josh's beautiful picture made the front page of this weekend's Irish Times.
The Irish Times also carried a spread on the competition - with other highly-rated images - in its 'Weekend Review' section. And they're running an online gallery of some of the best competition entries on IrishTimes.com.
Since the weekend, media interest in the competition has continued - with pieces in The Irish News, Silicon Republic, TechCentral, the Dublin People, Love Belfast, Cork Beo, Galway Daily, and lots more...
In addition to Josh Mathews' photograph, two competition runners-up were selected by the judges: Ciarán P. O'Donnell, from Belfast, Co. Antrim, for his image 'Cygnus Mosaic in Hubble Palette'; and Tom O'Hanlon from Tullamore, Co. Offaly for his submission, 'North Star Jesuit House'.
Online Exhibition
An online exhibition of the top-rated entries to the astrophotography competition - including the winning image, the two runners-up and the winner of a public vote - is available to view now on DIAS's website.
An outdoor exhibition at DIAS's premises on Burlington Road is planned for the coming weeks, followed - later in the summer - by an exhibition at DIAS Dunsink Observatory. We will keep you posted!