Seven Useful Business Lessons from Alice
Entrepreneurs Anonymous runs regular meet-ups and events for its 10,000-plus members across 14 European cities, and is open to anyone with an interest in business and entrepreneurship.  Our Managing Director, Martina Quinn, was invited to speak at one of their events last night, on the topic of 'Things I Wish I'd Known When I Was Starting Out'.
The event took place in the very cool surroundings of Zalando's Fashion Insights Centre on Dublin's Grand Canal Quay.
Here's a summary of what Martina said:
Things I Wish I'd Known When I Was Starting Out
I left the PR agency I was working with – somewhat impulsively – in June 2015.  I didn't have any big plan to set up my own company at that stage.  I basically decided I'd do consultancy and freelance work for a while, and see where it took me.
Fifteen months down the line, and Alice PR & Events is in full swing.
Since starting out, we've won contracts with over 30 clients, and we've grown from just me on my own, working from my kitchen table, to a team of seven, working out of our offices in Temple Bar.
So it's been a busy 15 months!
But what have I learned along the way?
Business Lesson 1: People Are Nicer Than You Think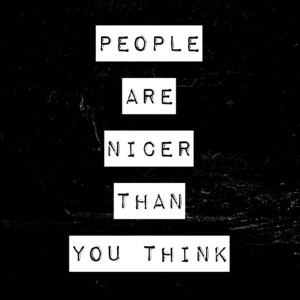 My first big lesson was that people are much, much nicer than we give them credit for.
I was blown away by the amount of goodwill I received when I told people I was leaving my job of eight years and striking out on my own.  People who barely knew me went out of their way to pass on potential business leads and to make introductions for me.
And, outside of business, I received incredible support from my family, friends, friends of friends and distant relatives!
Business Lesson 2: Don't Under-Estimate the Value of Your Networks
My second point is related: don't underestimate the value of your networks.
I didn't actually realise how many connections I had until I started working for myself.  I remember posting on Twitter and LinkedIn that I was leaving my job and starting out on my own, and I got an incredible response that way – with lots of people asking to meet me for coffee or emailing me with business enquiries and so on.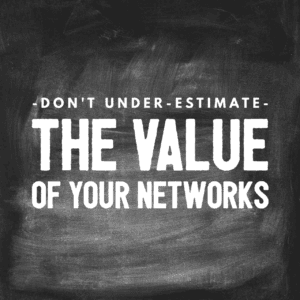 And lots of those cups of coffee have led to ongoing business relationships.
Some of the biggest projects I worked on last year came about solely through online connections.  To tell you about just one of those: a woman I had never met in person but who I was connected to on LinkedIn asked to meet me for a coffee last summer.  She works in PR herself, but she was too busy to take on a new project that had come her way and she passed it on to me after we met.  The project was for a London-based PR agency that works with tech brands across Europe and Asia.  And, as a result of that woman getting in touch with me on LinkedIn, I not only got a contract with one of their clients last summer, but I've become the Irish Associate for that London firm, working with them on an ongoing basis.
Things like that – very luckily – kept happening me when I started out.
I've also benefitted from lots of informal mentoring.  I haven't participated in any structured enterprise support programmes, but my boyfriend has run his own business for the past seven years, so I've been able to draw on him for lots of advice. And there are a few other business-owners I know – with far more experience than me – who are generous enough to let me pick their brains whenever I need advice.
Business Lesson 3: Choose Your Accountant Carefully
My next lesson is one I'm sure every entrep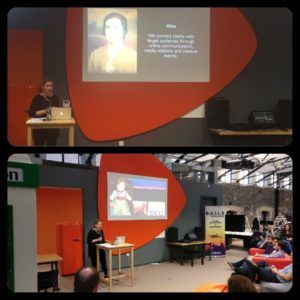 reneur knows only too well.  It's not the most exciting, but it's an important one: choose your accountant carefully.
I wasted six months working with an accountancy firm that didn't suit my needs.  I was too complacent – and too busy with client work – to let them go.  This caused a lot of headaches – and took up a lot of my time – later in the day then.
If I was doing everything all over again, this is the very first thing I would prioritise: I'd invest lots more time in researching different accountancy service-providers and making sure I took on one that understood my business and was really responsive to my needs.
Business Lesson 4: Beware of Giving Too Much Away for Free
I mentioned earlier about how beneficial it was to go for coffees with different people when I started out.  But I've also had lots of coffees where people shamelessly pumped me for free advice and never gave me a single bit of business in return!
At the beginning, I felt I couldn't really say 'no' to anything or anyone.  But, now, I'm trying to be a lot more selective about what I do for free.  If it'll bring rewards – business connections, or profiling for the company, or enjoyment for staff – then it's worth considering.  But if you get the sense that somebody's solely after freebie advice and will never repay the favour, don't waste your time.
Business Lesson 5: It's Okay to be an Accidental Entrepreneur…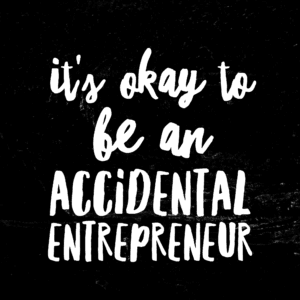 I started Alice without any business plan.  And I still don't have a written business plan.  It's one of the first things you're asked for when you look at enterprise supports or awards schemes or even chat to your bank manager.
So it used to worry me that I didn't have a masterplan written down.
But I've spoken to those informal mentors I mentioned earlier – one of whom has run a very successful business for nearly 30 years – and they've reassured me it's okay; that they don't either.  According to them, the most important thing is to focus on getting clients, and keeping those clients happy.  And that's advice that I've taken to heart.
So I consider myself sort of an accidental entrepreneur – in the sense that I never really set out to run my own business.
Business Lesson 6: … And to Wear Many Hats at Once
I'm also happy not to pigeon-hole myself.
At Alice, I'm the founder and Managing Director.  But I also have different roles in different organisations, and I'm considered part of the staff team for a number of my clients.
As I mentioned earlier, I'm an associate for London-based PR agency, The Honey Partnership.  I also collaborate regularly with one of Dublin's leading creative agencies.  At Dress for Success Dublin, I'm part of the staff team, working as the organisation's Fundraising & Business Development Coordinator.  And, at Career Zoo, I also work as part of the team – as their Comms Director.
Being willing to slot into in-house teams – and not being overly precious about our own job titles or role descriptions – has helped us win new business and build really strong relationships with clients.
In any given day, I can be wearing lots of different hats at once and checking one of my six different work email accounts – and I love that.
Business Lesson 7: Find Team-Mates You Trust – And Make Work Work For Them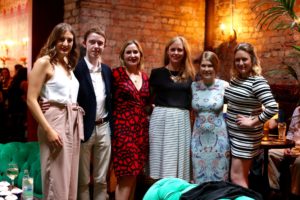 My final piece of advice is to find team-mates that you trust and enjoy working with, and treat them well – and, hopefully, they'll become as bought into the company's success as you are.
The first person I hired last autumn is an old friend of mine.  We worked together in our last two jobs.  And now we're happily working together again.
The next person to come on board was a client of mine from a few years back.
The newest member of our team, who just joined this month, is someone I've known since I was eight years old.
I had worked with each team-member in some guise or other before they joined Alice – so I knew the quality of their work and that they would be a good fit.
And I've happily come up with working arrangements that work for them and that, hopefully, mean they remain committed to the company.
There are seven of us on the team at present, and we've never all been in the same room together.  Three or four of us work from the office most of the time.  Two of the team have young families, so they work from home and work part-time hours.  One team-member is currently working from South Dakota, where she's from.
We use tools like Slack and Skype – and obviously email and phone-calls – to keep in touch, so we've never felt the need to have all of us working out of the same office at the exact same hours every day of every week.  And that's really helped in terms of being able to bring people on to the team who I really wanted, and also in terms of keeping costs down.
I definitely feel like I learned a huge amount over the past 15 months and that I'm learning new things about running a business every day still!
Photo Credits: @EntAnon, @GarrettSCassidy.